Talented make up artist David Docando shows you how to look like supermodels walking the runway. For sure we can rely on filters on instagram. And photoshop is our best friend on social networks. But in the real life, we cannot hide the spots and get rid of the wrinkles. But who didn't dream showing up flawless complexion like Vogue models? Oddly enough, they look like they were make-up free…But they aren't!
Therefore, we listen to the wise advice given by Make-Up artist David Docando, that will guide us through a fabulous tutorial! Folks, I know that your professor today is amazingly charming but please, stay concentrated! We have to learn the subtle art of contouring and every trick to apply the correct foundation. Thank you Master for these exclusive #cherrytips!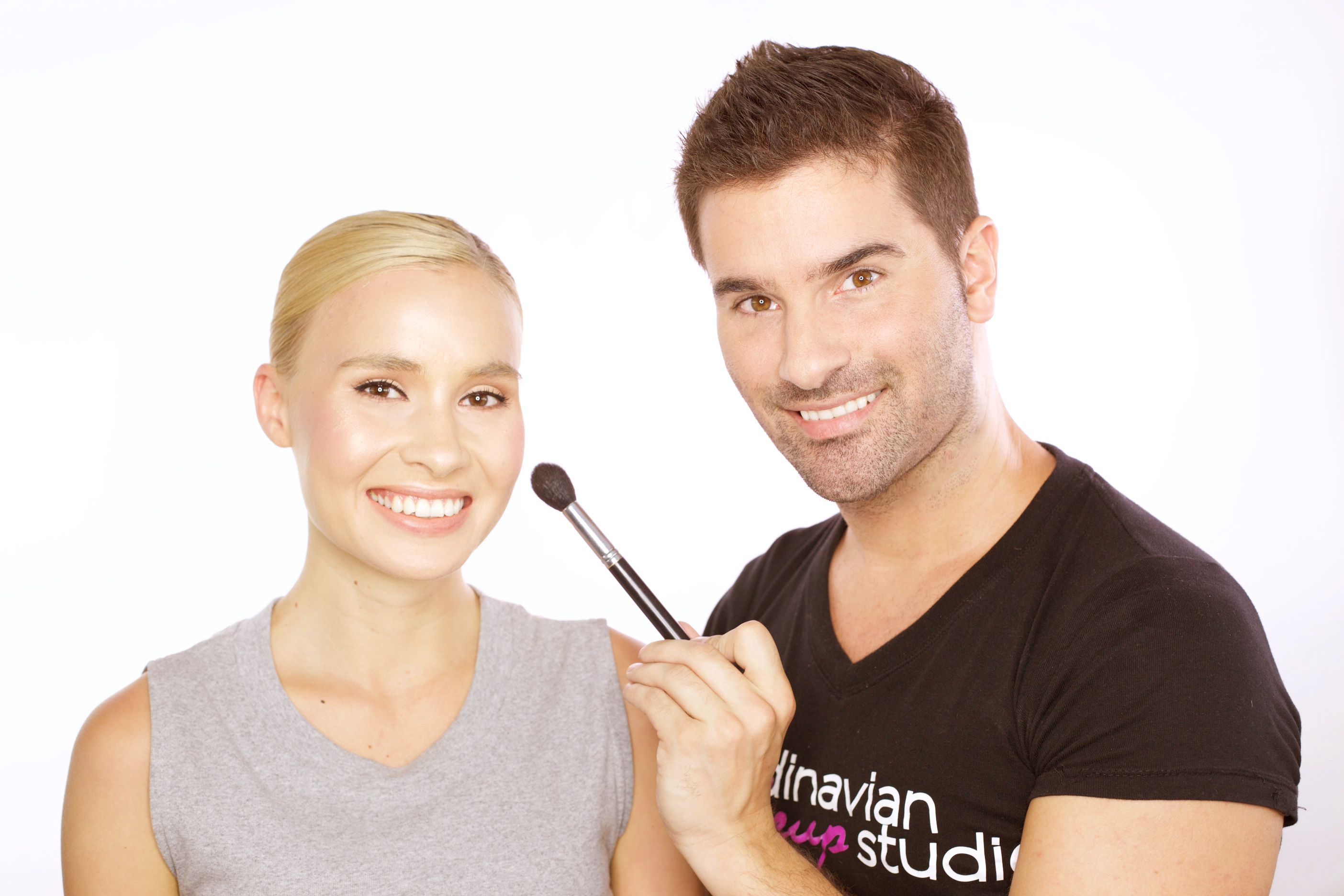 1) Prime the skin with a primer that suits your skintype. High moisturizing for dry skin or a mattifying one in case of oily skin. This will smooth up your face, will help the foundation to blend out better and last longer. I used mattifying primer by Laura Mercier on the model since she is more on the oily side.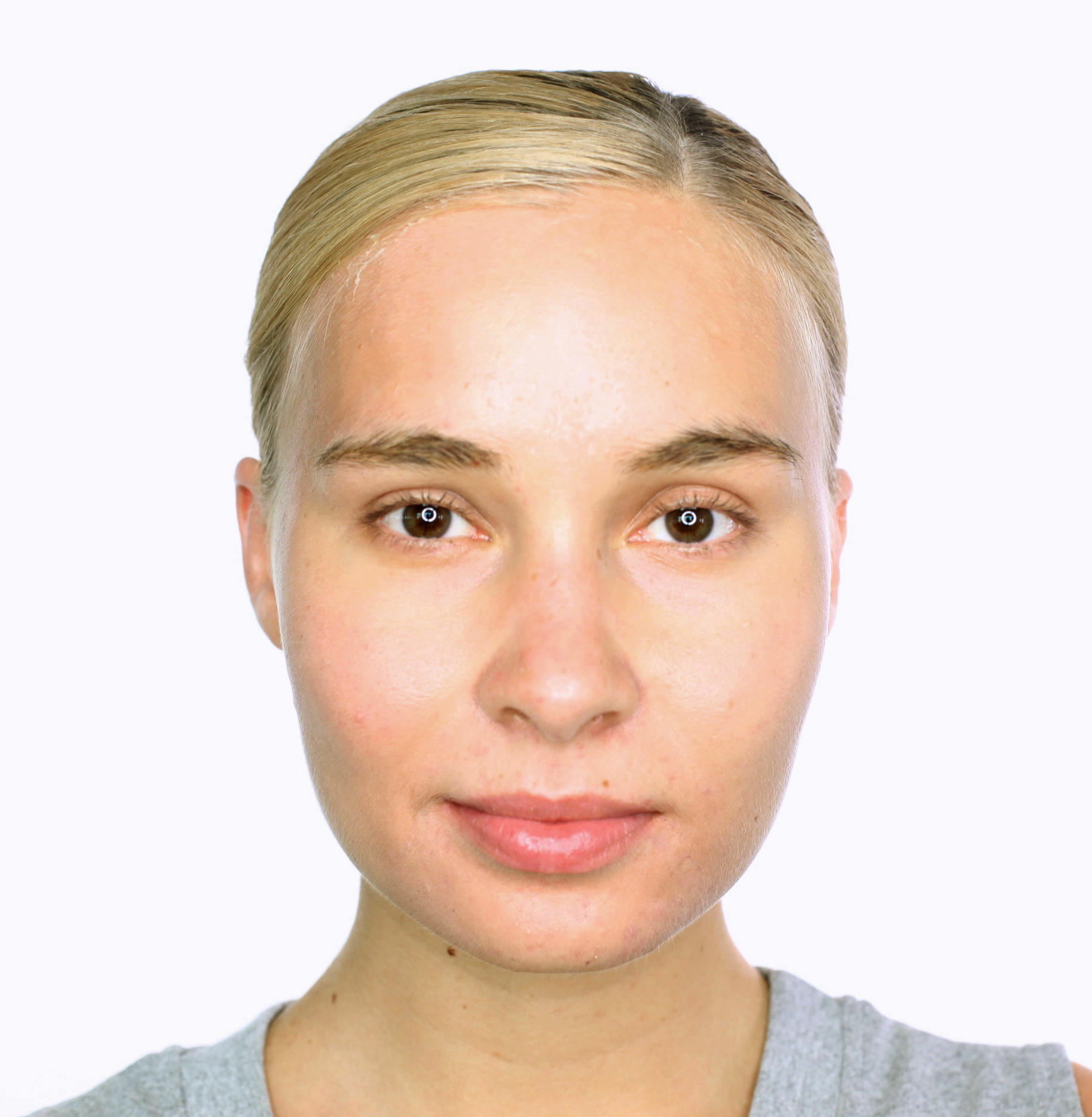 2) Apply
foundation
only on the areas where you need coverage. Generally center of the face. Then start blending it outwards making sure there is no product on the brush when this reaches the edges. This will stop the "makeup mask effect". Always make sure you find a
common background
among your face, your
chest
area and your
shoulders
at the time to find the right shade of foundation. Face and body have to look like they belong to the same person. And make sure you apply it under
natural/white light
. On the model I applied
Makeup Forever HD foundation
because it gives a quite full coverage with a light reflecting effect that makes the skin looks natural.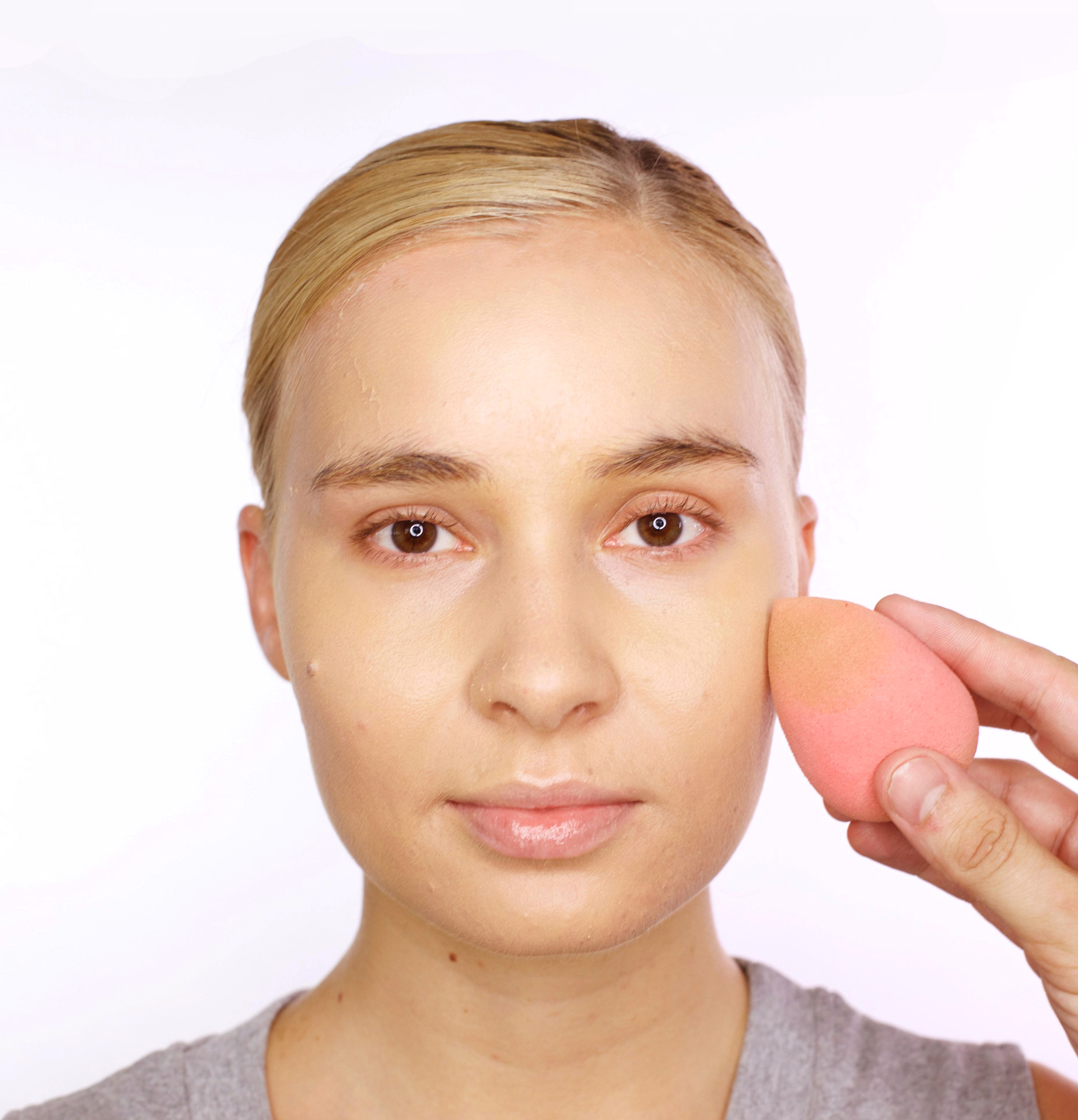 3) To conceal succesfully, the key is to master the color
correction
. Apply a peach or salmon concealer to neutralize the dark areas of the face. Because the
orange color
neutralizes the blue undertones. And then use a
yellow
concealer to highlight the high points of the face. Yellow brings brightness on the face without leaving the ashy appearance that the beige based concealers cause. My choice for this step on the model were
NYX reflector concealers
, because they have a very light texture and set on the skin without need of any powder. So one avoides any cakey finish. They also provide a bit of glow that help us on the task of achieving a flawless satin look.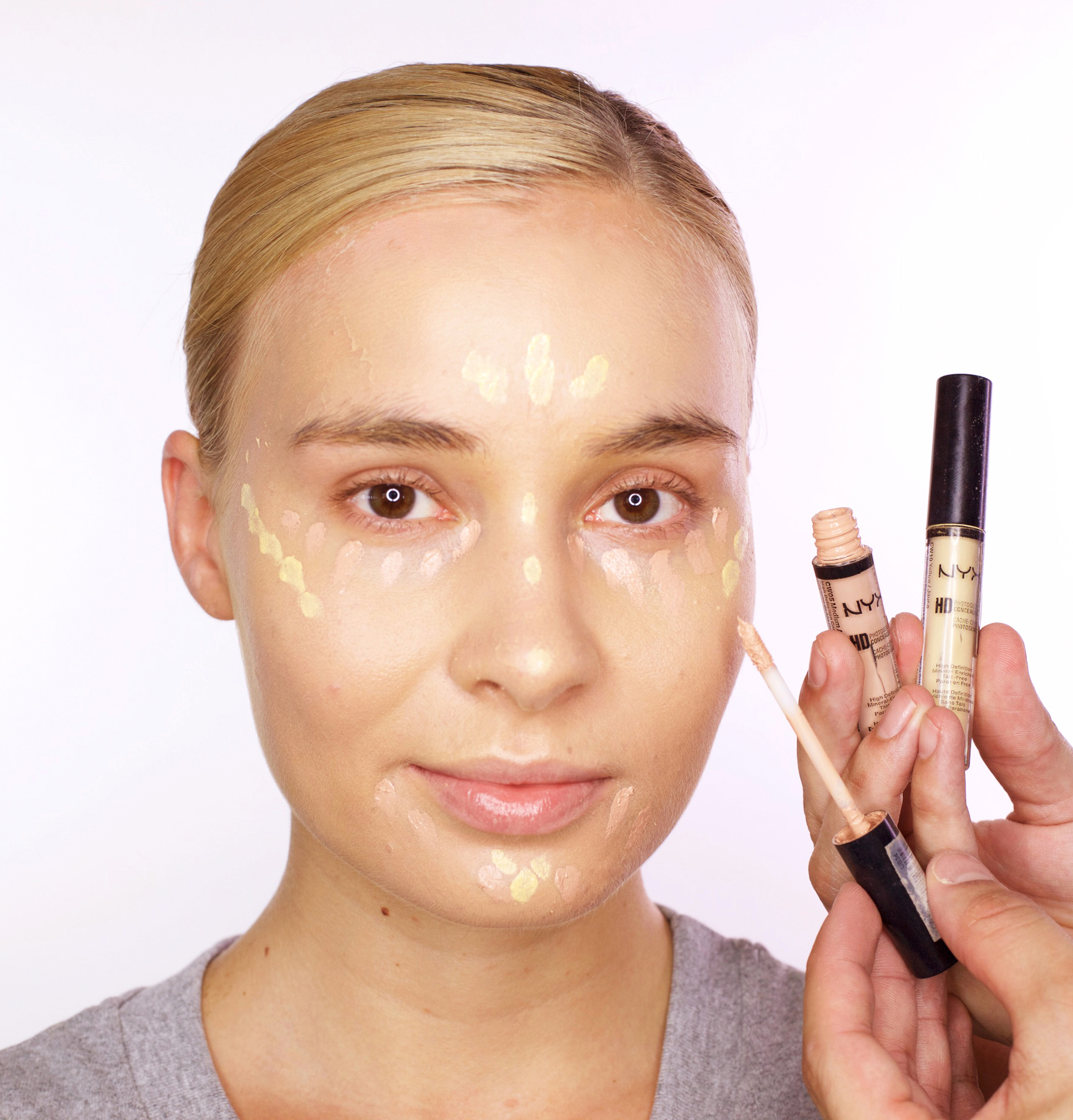 4) With a taupe light brown draw a subtle stroke from the temples towards de corners of the lips. This stroke should vanish away as soon as it reaches the area underneath the sides of the brows. The perfect contouring should never be seen from a frontal angle. Contouring is nothing but
recreating
the
shadows
of your cheekbones. Therefore we will always use a matte shade darker than our skin tone. Shading provides you sharper features, slimmer face and a more natural and dimensional look. Dont forget to blend harsh edges until you make them disappear. For contouring my model I used
Sleek
contouring palette. Its perfect because it also contains a highlighter and a blush.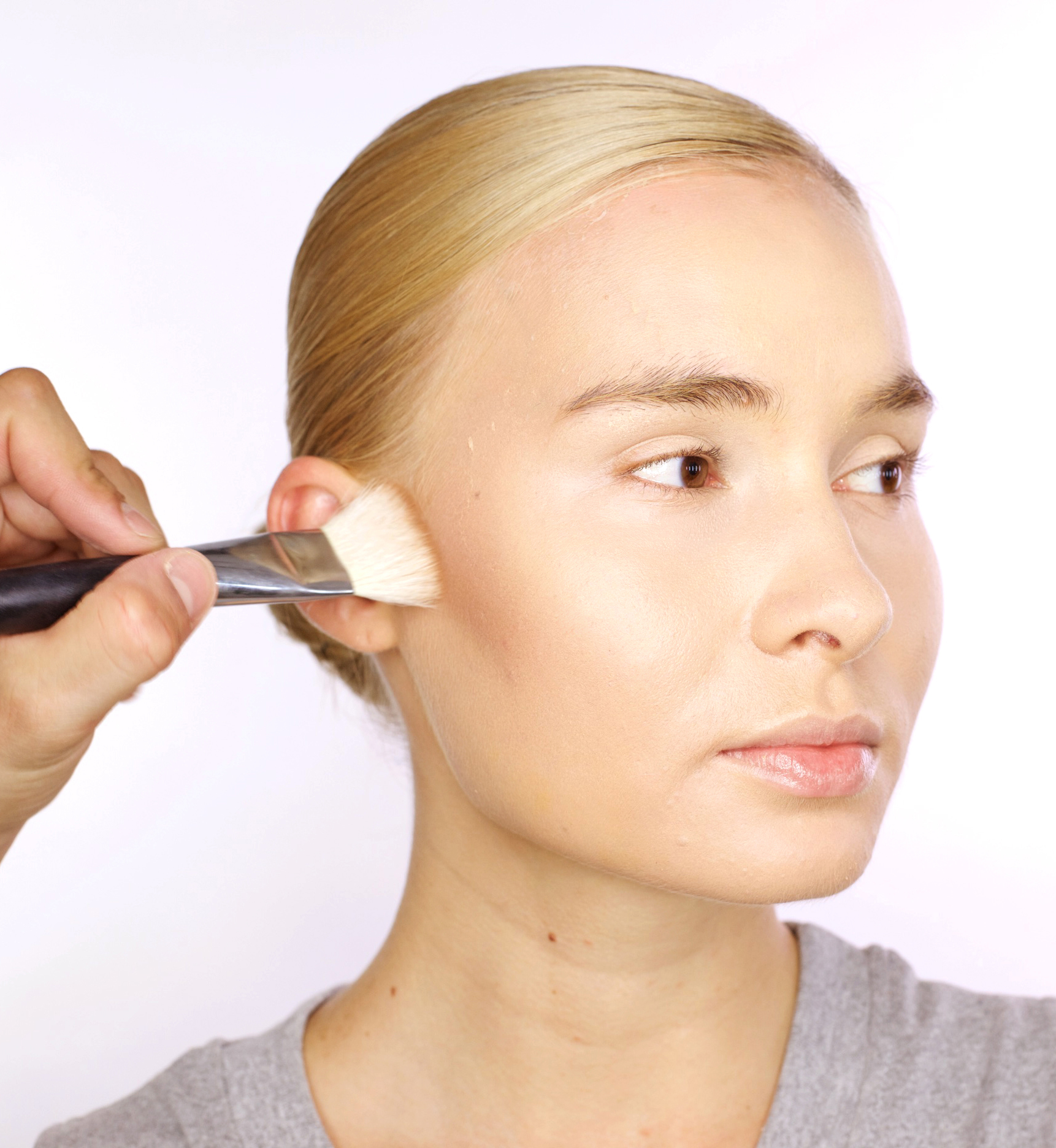 5) From the same palette, from Sleek, I used the highlighter to bring glow back on the higher points of the face: top of the cheeks, bridge of the nose, cupido's bow, forehead and top of the chin. I love sleek highlighter because it has satin that leaves a subtle glow on the skin without any sparkly or glittery finish.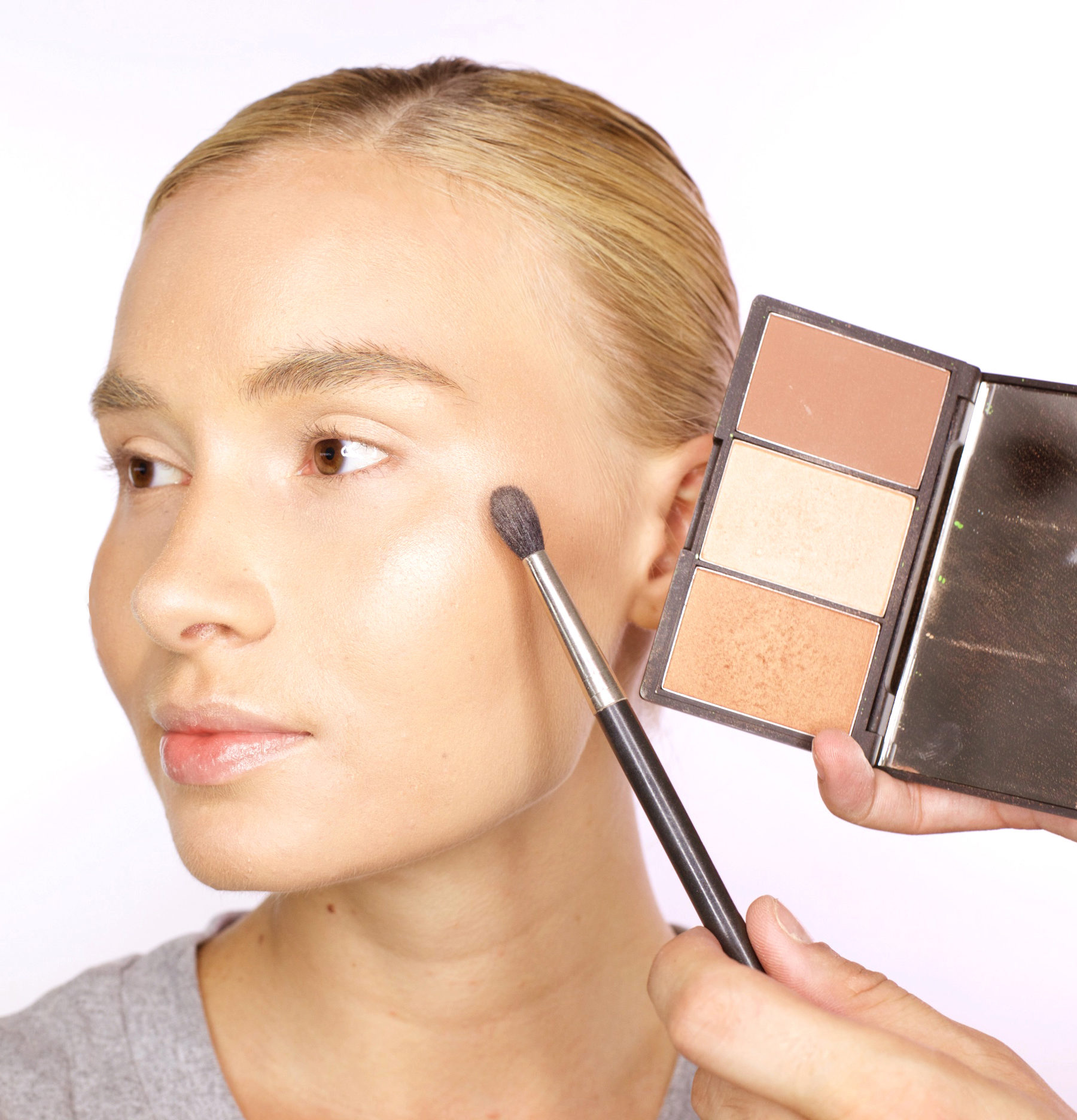 6) Nowadays, cartoony overdrawn high definition eyebrows are becoming a very popular trend on instragram or youtube. But if you take a look to the fashion runways you will realize that supermodels ONLY deliver effortless natural looking eyebrows. So brush them through, apply mascara to set them in place, and forget about any other creepy step. On the model I just apply pale blond color mascara to lighten her eyebrows and match them to her hair.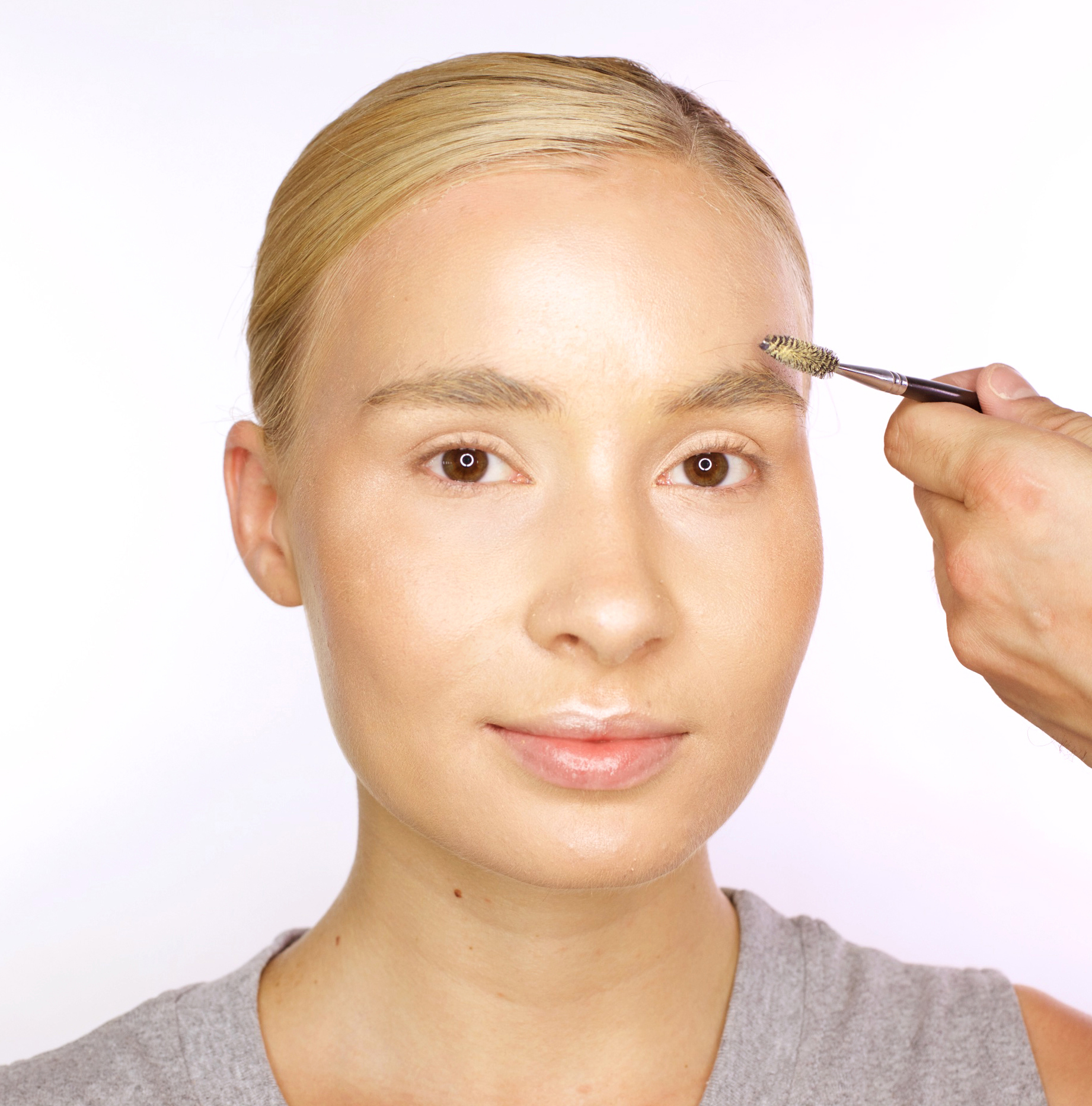 7) We move to the eyes, and with the same shade we used to contour we are gonna run it through the crease of the eye to give a bit of depth and intensity. And then we apply the same highlighter we used before on top of the mobile eyelid and on top of the brow bone to bring light to the eyes and make them appear bigger.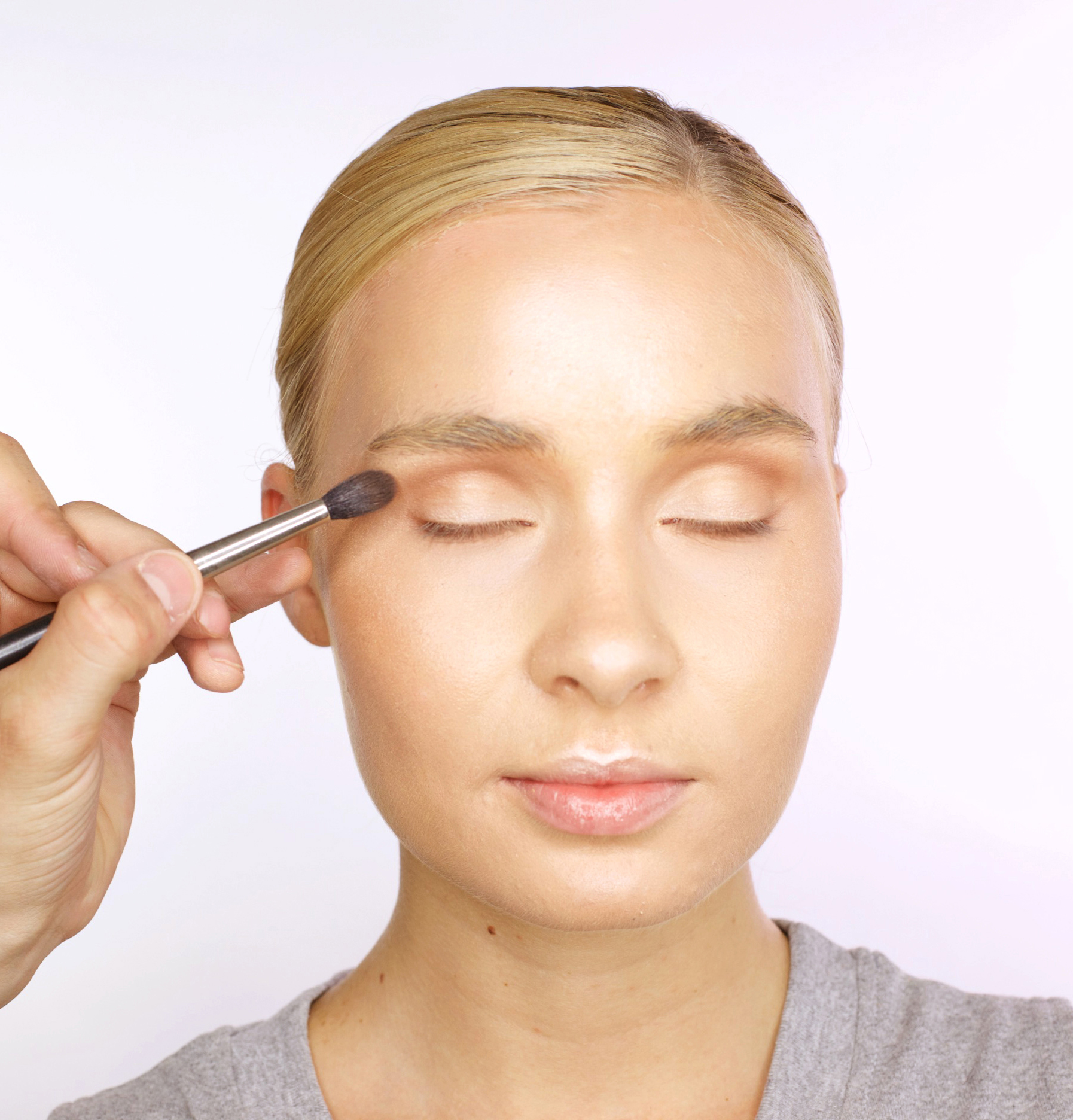 8) To finish the
eye look
we are gonna run an ultra skinny
gel eyeliner
really close to the lash line.
Laura Mercier gel eyeliner
is the one I used and my favorite one, because it has a really buttery texture and allows me to be very precise.
Real techniques eyeliner brush
is a good option if you want to achieve a really
sharp line.
Since it's made of
silicone,
it never looses its shape. Curl lashes and mascara:
Maybelline
mascara
is a classic among makeup artists; good quality for a very cheap price.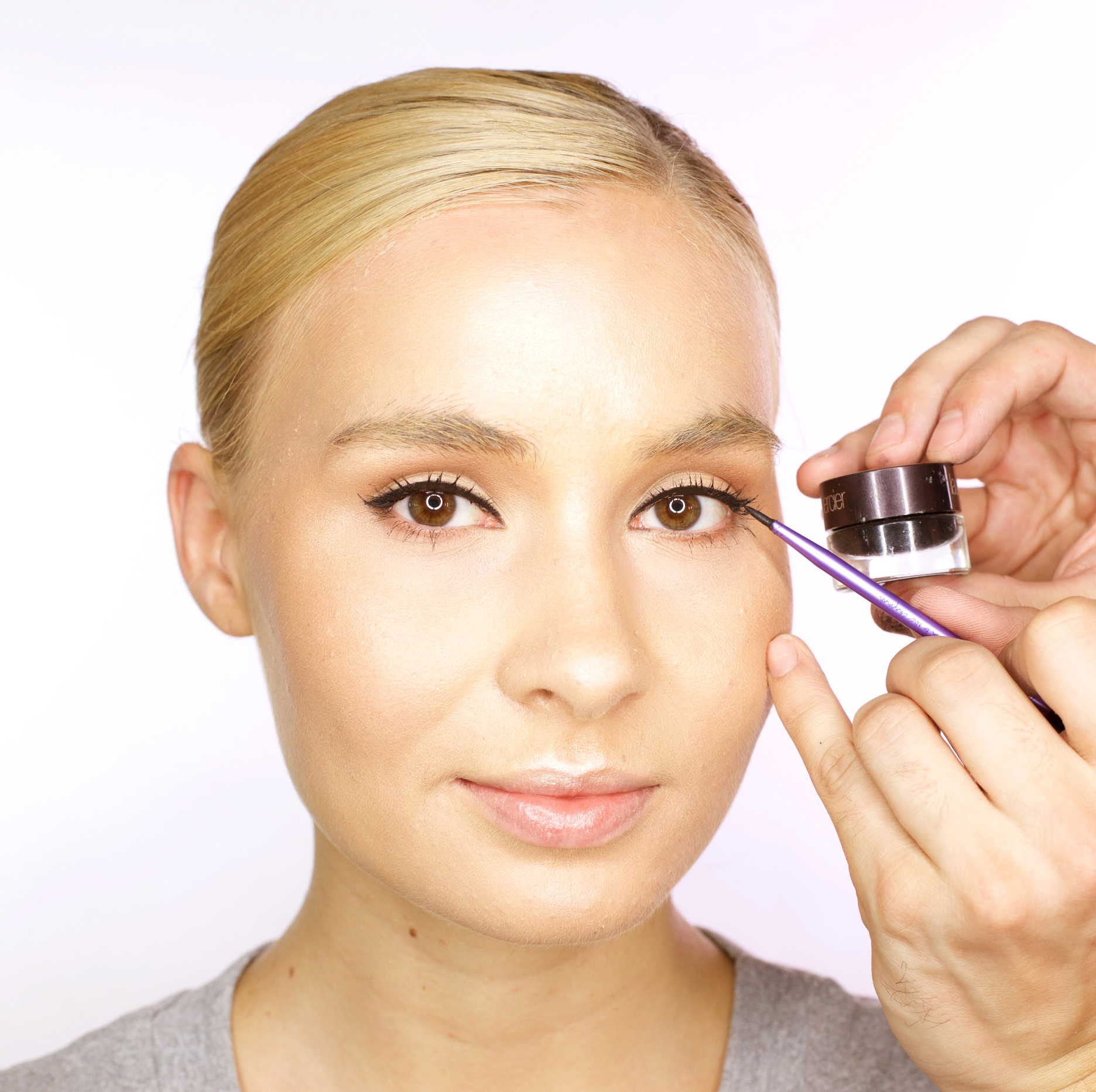 9) Everytime I create a very
glossy look
, with luminous skin and
shimery eyes
like we have created, I love to set it up with a soficticated
matte lip
. I believe matte lips on a shiny skin bring a bit of balance, add a fashion edge and take the look to an editorial level. My choice this time was a matte lip stain by
Revlon
in a soft peach nude color that works perfectly with the warmth of the models complexion.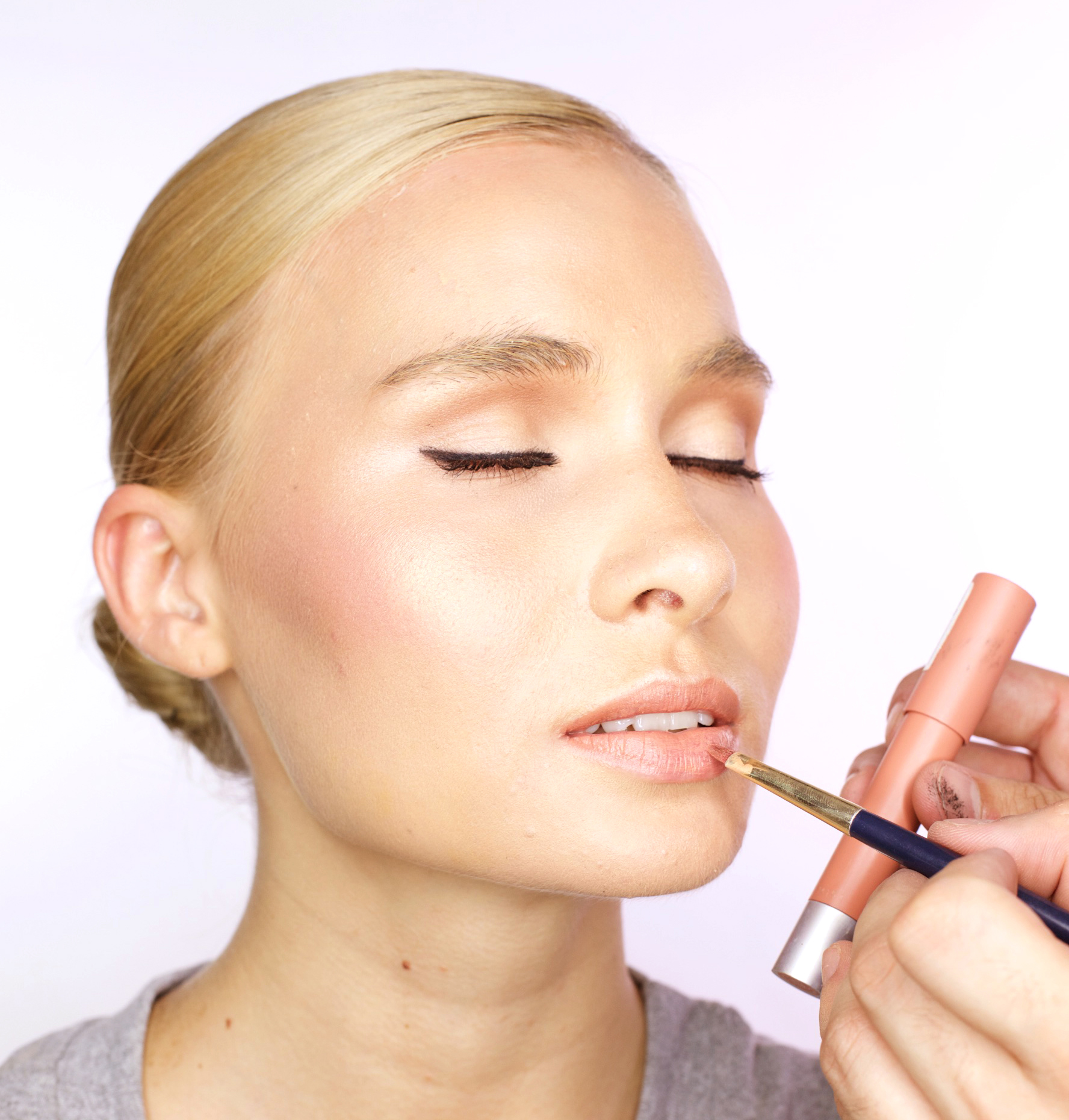 ———–
David make up Choices:
Who was your soo handsome professor today? David Dacando ID:
Charismatic and passionate, talented make up artist David Docando has graduated in Advertising and Public relations. This handsome Spanish native began his career at the age of 18, performing and also producing entertaining visual live shows in Barcelona. His skills for make up began to stand out and soon, the high glamour looks he used to recreate for the stage started getting requested under the flashes of the fashion and beauty industry. Here began his unstoppable career.
David is specialized in beauty makeup by Stick Art Studio (Makeup Forever School in Barcelona).
Along the last decade David Dacando has been based in Berlin, Los Angeles, Honolulu, and Bangkok, working on the sets of major fashion and beauty campaigns alongside the industry's most influential photographers, models and designers. He was even part of international TV productions and movies.
We have the chance to have him invited in the magazine! His reputation is done for his ability to create a flawless complexion. He is specialized in clean, modern, detailed and beautifying sultry looks.
David Docando has collaborated on many editorials, filling up the pages of magazines such as HARPER'S BAZAAR, ELLE, COSMPOLITAN, HER WORLD, TOUCH AND BEAUX. He also participated to TV show, whom he realized make up. For example, he worked with ''AUSTRALIA'S NEXT TOP MODEL'', "THE BACHELOR" SWITZERLAND, and "WHO WANNA MARRY MY SON" GERMANY among others. His commercial clientele includes prestigious international brands such as Canon, Samsung, Carrera and Carerra, Jaspal, American Swan and Canadian Ice.
David has created countless bridal looks for wedding and has become a very popular choice, especially among the Indian and Arabic community for his deep understanding of their traditional make up style.
David has never hesitated to spread his vision of beauty and shared his experience and technique acquired all along his career. For that reason, in this last stretch of his career he has embarked in the field of teaching. Indeed, he began as an instructor for the staff of the Swedish brand Makeup Store in Bangkok. Subsequently offering lectures and workshops in international make up center Bangkok (IMC), Hong kong Institute of design, LBG beauty academies in Hong Kong and currently at Scandinavian Make up Studio International school of Make up Artistry in Bangkok.
This tutorial was made possible by a great teamwork:
Thank you David for your tutorial, and a great thanks to your lovely model Tanya!
A big thanks to the studio which provided the make up material
The photographer Jorge Lareau did a great job!