Find out about the very first editorial by The Cherryship Magazine starring beautiful former Miss Switzerland candidate and successful digital Entrepreneur MORGANE SCHALLER! Today we talk about ECO-FASHION. In that respect, we have selected several designers who know how to marry their work ethics with today's sexy and wild trend. Enjoy (there are 3 pages, move on at the end of the article)!
Autumn Leaf
Picture by Mike Nyembo / © The Cherryship
When it comes to pinpointing what enters the world of ethical fashion, we can't prevent ourselves from thinking about inelegant garments, sloppy attire, and in short, unfashionable and poorly-designed vestments. Indeed, the words ethical fashion themselves certainly lead you to picture carpet slippers and their good old inchoate slipper socks.
But somehow major brands, even the top shelf ones such as Chanel, cannot disregard the consumers' new mind-sets any more. These recent issues involve a wide array of social challenges, from health to production mode and renewable energy.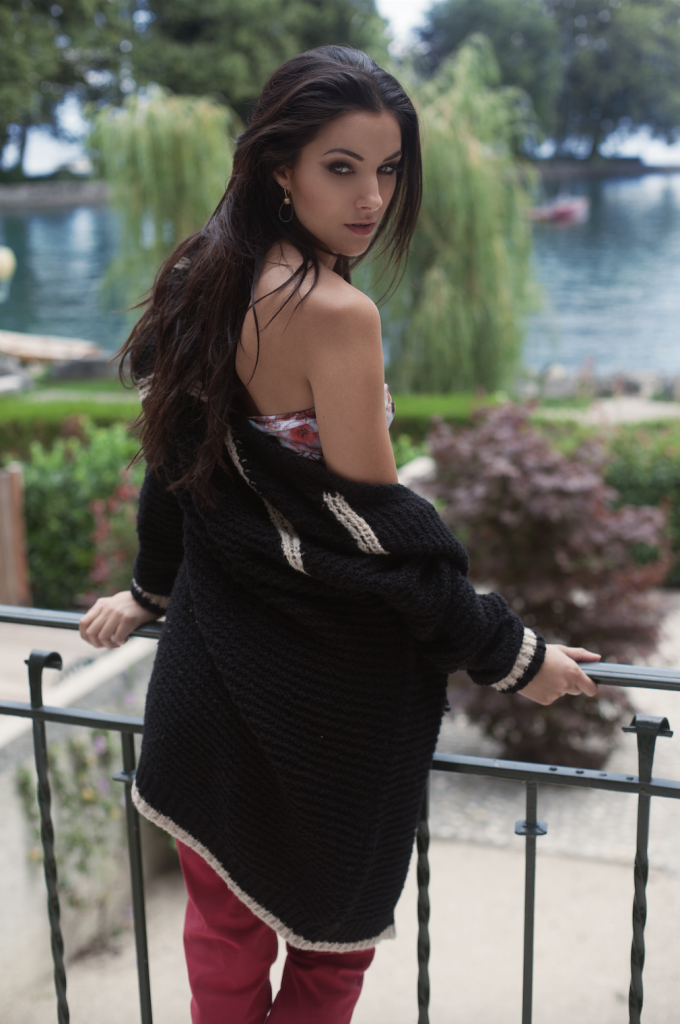 It is needless to say that fashion brands utilize a tremendous amount of natural resources, which affect the environment and millions of people all around the globe. We are now aware that production control would decrease this industry's harmful impact on the environment. These newly-politicized topics have been heavily weighed on public and private agendas; politicians and enterprises were driven to think about social responsibility, and neither the beauty industry nor fashion brands can overlook that phenomenon.
Nowadays, the most famous fashionista prefer to buy a piece of clothing which insures good traceability. Hence the fact that brands are forced to work on their green reputation; they are compelled to foster long-term thinking rather than short-term profit.
Do you remember this unintended Chanel fashion show which took place on a runway decorated with wind turbines in 2012? Always blowing in the wind, Karl Lagerfeld didn't hesitate to push the aesthetic boundaries in setting up a solar eco-chic collection. If this symbol wasn't a panacea to give Chanel a green banner (especially because the wind turbines were running on electricity), it emphasized how serious the green issues became established in the minds of the citizens.
It's worth mentioning the Conscientious collection from H&M, which promotes a sustainable fashion industry. Moreover, the brand bets on a way to make sustainability fashionable (what a program!) The giant claims to use natural resources properly – such as cotton – and considers itself as climate-smart. As they put it in their report, they try to choose efficient lighting for their stores and help their suppliers to reduce their CO2 emissions. By the way, H&M goal is to cover about 80% of its total electricity use with renewable energy.
Here comes the core of Ethical fashion; this philosophy took a leaf out of fair trade, and abets a production mode which avoids the use of water and reduces the wastage of resources, and which considers working conditions and externalities (amongst other criteria).
The Cherryship made up its own mind by choosing a board of green designers who meet the challenge of balancing design and environmental acceptability. This new generation of creators knows how to make us trendy – and even sexy! – Without sacrificing any values. A special thanks to the concept store A ma fille, in Rolle, to be a part of this special eco-fashion issue:
Valentine Gauthier: This Parisian designer proves that ethical doesn't inhibit a sharp style. Valentine Gauthier firstly worked at Maison Margiela's Atelier before she launched her own brand in 2007. The structured and graphic tailoring highlights the feminine silhouette with high-quality textures. We are in love with the colour block pieces which match in a furious modern way with graphic-patterned garments.

Claudia Paz: From Bolivia to France, the eponymous brand born in 2011 draws into its Latin American network to weave a woollen maze. We are in love with this simple design of clothes, whose pure elegant shape highlights the nice meshed texture.
Lanius: Claudia Lanius upgrades organic close from eco-fashion climax. The DNA of this German brand is rooted in ecology and sustainability. We are particularly in love with its colourful and oversized coats,that are comfortable and furiously fashionable. Sweet natural colours and childish patterns make us want to play a little more with the layers during the winter season.
Melissa shoes: We are digging the new age aesthetics of this 40 year-old brand! Eco-friendly and sophisticated Melissa shoes collaborated with the fashion sphere sacred monsters like Karl Lagerfeld or Vivienne Westwood. Mid-futuristic and mid-ultra-girly, Melissa blows away the classic frames with its plastic design and reinjects a bit of fun in the fashion game. If you did burry your inner child before going to the office, just wear this ultra-designed piece of plastic at your feet during the day – you won't recognize yourself! Melissa Shoes are made with materials which can be easily disassembled and recycled. Plus this brand ensures good working conditions for all shoes-makers and employees – Melissa shoes are made in Brazil.
AVA Jewellery: Back to Switzerland, where the new generation demonstrates loads of talent. Ava Tebyanian turns the jewels she creates into a real metaphor of life. Metal is twisted, filed and pounded to become a real jewel. Like life, metal wears the stigma of existence. We love the brand's raw lines and the simplicity of its aesthetics. Fresh and trendy, AVA jewels can also become emblematic. You can ask the jeweler to create your piece at a place, which is dear to your heart: the metal takes the imprints of the asphalt at that location and will hence depict your fondest memories…
When it comes to global warming, what better idea to summon a model who can rise the barometer?
Lovely Miss Switzerland contestant MORGANE SCHALLER poses for this special ethical fashion edition – and she is mesmerizing!
The Swiss model thoroughly sublimates the garments she's graced with. Her eyes, midway between kelly-green and pearl grey irradiate a strong magnetism. We wanted this shoot to be intimate, all at once with the lake – utterly symbolizing this part of the country – but also with Morgane, who seems to merge with nature – it's kind of magic out there. Your turn, to surrender to her charms…!
–
Golden hours by the lake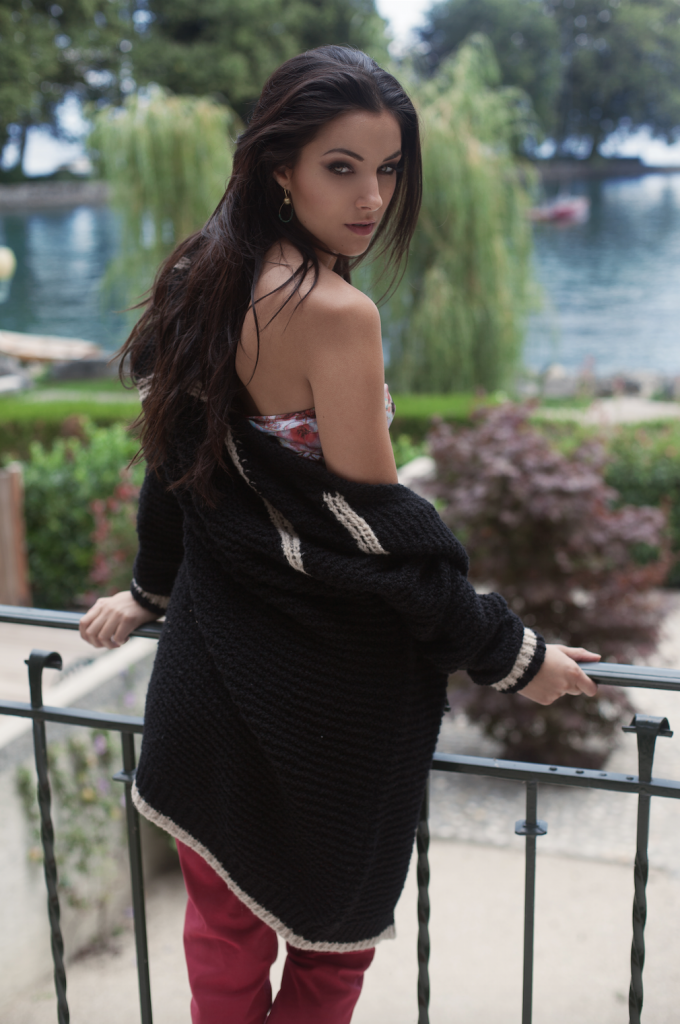 Pictures by Mike Nyembo / © The Cherryship
JEANS: Lanius
JACKER : Lanius
SHOES : Minelli
SWIMSUIT : Valentine Gauthier
EARRINGS : AVA jewellery
–
A woolen fall
Pictures by Mike Nyembo / © The Cherryship
COAT : Lanius
BOOTS : UGG Australia
–
Green eyed hippie-chic

Pictures by Mike Nyembo / © The Cherryship
EARRINGS AND BRACELET: Dressing book Boutique
RING: AVA Jewellery
BOOTS : Melissa Shoes – Plastic Dreams
PATTERNED SHIRT: Valentine Gauthier
SHORT : Valentine Gauthier
BAG : Balenciaga


CONTINUED ON NEXT PAGE > > >